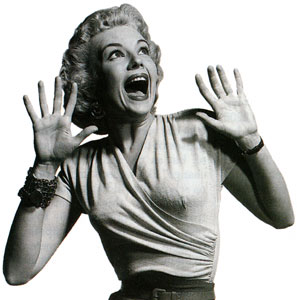 The other day I noticed a small mole on my right arm was misshaped, painful and had bled a bit – clear skin cancer symptoms.
I. Freaked. Out.
My life flashed before my eyes. I imagined my children talking to each other over old photographs trying to remember what I was like and hoping to God they didn't only remember I lost my temper a lot those last few months because I was having trouble adjusting to full time mom life.
I imagined my arm would need to be removed, like that girl who wanted to sail around the world on that House episode last month. I'd never be able to hold my kids in my arms again. I'd never fly a helicopter again. How would I drive in the US?
Hadn't I also felt some pain near that mole. Sure, it might have been tendonitis from weeding, but I'm telling you, it could be something else. Wait, the joint where my arm connects to my shoulder has been aching a bit lately too. No, I'm sure it has nothing to do with trying to swing from the monkey bars with my daughter. It's a tumor. I'm done for.
Both of my parents and my father-in-law just had treatments for pre-skin cancer and my dad's wife had melanomas removed. I may be the suntan lotion police, but I've lost the battle. I just knew it.
I went in to see the doctor. He couldn't decide if it was in fact a good candidate for skin cancer. He confirmed it was certainly abnormal, two colors and didn't feel or look right at all. He recommended I go see the dermatologist. The first opening wasn't for four more days. Would that put me past the point of no return if it was cancer?, my over reacting mind wondered.
I spent the next four days researching skin cancer types, life expectancy and will writing recommendations. Was it too late to get Aflac cancer insurance when I wasn't sure I had cancer?
When finally the day came and I took my now completely over freaked out (abet well prepared in the legal and insurance departments) self to the dermatologist I was given a definitive and clear diagnosis with no room for error.
Somehow I'd scraped or scratched my mole on something and that made it bleed. It was just an irritated piece of skin with a scab. The sore muscles were not an indication of a long and painful death by skin cancer. He pointed out the yellowing of a bruise just over the back of my shoulder (I'd not have seen it without a mirror). Had I been doing anything with that arm that might have pulled muscles, caused a bruise and scraped it?
I tell you, that's the last time I play on those monkey bars.