We can give kids mountains of toys, but the honest truth is we parents are their very favorite playthings. They want our attention; quality time with just us. They want us to be interested in what they do.
Taking some time out of our busy schedule to focus solely on our kids is one of the best things we can do.
It's very easy to spend this quality time with the kids. Just watch what they're interested in and play along.
Kids are amazing in their ability to be completely enthralled by the smallest things, quite literally. These little scientists can spend a hours just looking at bugs. If you want something free, entertaining and educational to fill a lazy August afternoon, try going for a backyard adventure.
You can easily prepare by checking out some books on bugs, flora or fauna from the local library, or looking up some information on the Internet, but it's not required.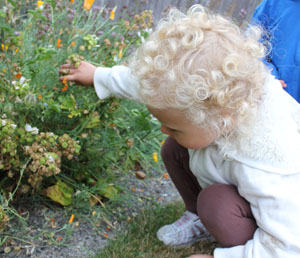 Littlest ones will be happy to just squat down on the back patio, grass or flower garden to watch the creatures.
Get down on their level, talk about what you see and ask questions: The spider is spinning a web. The ant is carrying something back to its house. What do you see? How many feet does it have? Do you see the green spider on the plant? Where do you think he's going?
Share the names of things: worm, potato bug, spider, ant, bee, ladybug, etc.
It's an excellent time to talk about not touching more dangerous creatures (bees, fire ants, spiders) as well as what the creatures they see do for the garden (worms help break down the soil, ladybugs eat the smaller bugs that hurt the flowers, spiders spin webs to catch flies for supper, etc.)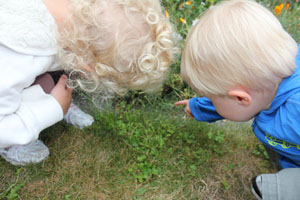 For older kids, how about bringing along a field journal? A few pieces of paper or a spiral notebook and some colored pencils can go a long way. Draw together what you see.
And don't be afraid to say you don't know what something is. If a creature appears and you're not sure what it's called, suggest you draw it together then look it up later to get a name.
Get creative. Capture fireflies, bring along a magnifying glass to get a closer look, take pictures of what you see to make a scrapbook on a rainy day. The possibilities are endless.
A backyard adventure is free with no travel involved. But it's priceless when you consider the valuable attention you're giving to your little ones and the memories you're making together.