Chances are you've heard all about helicopter parenting. I come across that and cringe just because I'm a mom and a helicopter pilot and sometimes people wonder if my blog is about helicopter parenting. Ugh, quite the contrary.
Helicopter parenting is in essence parents who hover over their children at all times, rarely giving the child the opportunity to learn from mistakes and figure their own way out of problems.
It's hard to watch our children fail, but when we give them the knowledge and teach them the skills, we have to step back and let them try, and sometimes fail, if they're going to appreciate their own ability to succeed. Failure is only a step to success. If we never failed, how could be so confident from our successes?
When babies are born, they need us to manage every aspect of their lives. We need to begin to let go as soon as they start doing things on their own. Continuing to do things for them, or control how they're done, only stunts a child's sense of independence and belief that they can do things themselves.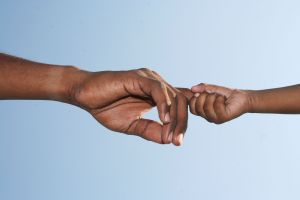 As we begin to let go, take baby steps. Just like when helping a toddler take his first steps we let go of their hands for a few precious steps to show them they can do it, we must also do the very same in all aspects of their lives in time.
Make time to teach your child what she needs to know before letting go. When we give them the knowledge and skill they need, they're much more likely to manage doing something on their own sooner and with more confidence.
Remember to have and show your faith in your child. I tell the kids "That was a very good try. It takes practice. I have faith you'll get the hang of this really soon. Just keep practicing."
My mom tip for today: let go of your kids in little steps as soon as you can and you'll give them the gift of learning through their own successes and failures, which will build strong self-belief.