I've developed a rather nasty habit lately. I'm shouting. I never liked seeing other parents shouting at their kids, and swore I'd never do it. I've written a few articles about things to do to get kids to follow the rules, but wouldn't you know it, I've fallen into the trap.
Of course, I blame my kids. I mean, if they would just do what I ask the first, second or even third time I ask, I'd not start raising my voice and blood pressure, right?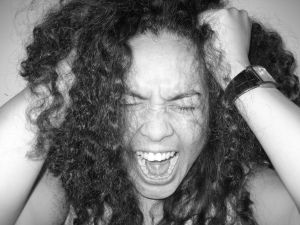 The thing is, they're in that gray hair initiating stage of just plain ignoring you to see how serious you really are. Which, for me – a type-A control freak – brings about all kinds of bad juju. I quite simply. Lose. It.
So back to the books for me. Giving them five-minute and two-minute warnings aren't working. Developing consequences and following through aren't working (e.g., if you've not cleaned up your toys and gotten ready for bed, there will be no story). I've even hit my head against the wall in frustration, which I'm here to tell you just makes them look at you funny.
So I'm now initiating no words.
Yup, you heard me right. It's a positive discipline technique and requires me to get off my lazy butt and demonstrate without raising my voice. In fact, I can't make a peep.
It works like this. You see a behavior that both you and your child have talked about before for the 12th time today, take Sweetness slapping the snot out of Mr. Man for not doing what she wants this very instant if not sooner as an example. Typically I'd end up yelling, "hitting hurts, how many times have I told you that? Off you go to your room for some time away from your brother because if you can't play nice, you can't play with him." (Though I might as well be saying "blah, blah, blah" for all the good it did.)
With this positive discipline technique, I have to get off my butt, zip my lips and lead her by the hand (or pick her up and take her if she pulls the tried and true environmentalist protest limp drop) to her room and close the door.
In situations like not cleaning up, I have to remind myself that until the kids are 6, they still need our encouragement to help (even though we've seen them in times of high motivation clean up by themselves). I have to get past my frustration and get up to help clean up, without speaking a word. Now, I know you might think this means the kids are learning they don't have to do something and I'll just come in quietly and do it for them. Heck no, I'm not letting that happen. I'll have told them when it's time to clean up and remind them of the consequence of if I do it (no story for example).
In my first attempt at this, they jumped right in and started doing it. "No, no, we're doing it. We want a story." The next time I just moved to start cleaning up and they started cleaning. I've yet to see them actually do it when I ask, but I have hope.
Yes, this isn't solving my problem that they just do what I ask when I ask it, but I have to remind myself all kids are like this and it's part of being a mom. However, I can teach them we can resolve issues and get things done without screaming our heads off at each other, which, in the end, is not a bad benefit, don't you think?
My mom tip for today is to try to stop the screaming for one week and see how it works. Develop some signs or hand signals. They'll catch on. And you won't lose your voice.