I have wonderful memories of this swing set my brother and I had when we were kids. You remember the kind, those metal frame jobs that you'd try to swing on as hard as possible to see if you could get the legs to pop up. The chains on the swing were pinchy, the seat was hard plastic, and the see-saw pinched your fingers and inner thighs, causing more pain than Christian Grey. It was white and green and it was our everything.
Ours was the "guaranteed to kill you four ways to Sunday" version according to today's rules. We had this flimsy aluminum slide that went from the TOP of the swing set frame, two swings and a see-saw. We had the best one on the block and all the kids played at our house. We loved it, spent hours playing on it. Dad was always trying to restake it after we had a particularly successful swinging session. I still think of it.
So, obviously, I had to get a play set for my kids (not for the potential death aspect as the life-long memories). I have this lower section of my yard that has turned into weeds. It was even a raccoon toilet at one time. I always had big plans for that space and no time to do it. The weeds, however, had plenty of time and took over. Then my neighbor behind me who kept his garden so nice passed away and his wife let it go to seed, not even mowing. He had blackberries in his garden. You can imagine the rest.
So I finally bit the bullet, paid a landscaper to clear out the lower area and bring in like 400 bazillion wood chips (six inches deep for the whole designated play area). While he busied himself with that, I scoured the internet for reviews and the local stores for play structures. I wanted something a 3 and 4 year old could play on now and grow with. I about had a heart attack at the price of the nice sets out there – $1400 to start with something really small. YIKES! Plus, I had this long and narrow space and so many play sets had more square footprints.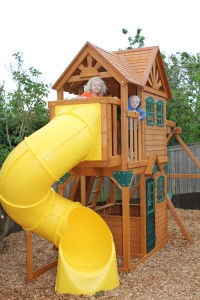 Then my dear friend and savior so many times over – Costco – put out their summer stuff. They had the perfect shaped set, a bit pricy for me, but still much less than the nicer stuff out there that I felt pretty certain would last. What sold me is my father in law, who lives in the great land of no sales tax (Oregon) and has a truck, helped us acquire the set in all six boxes and bring it up, saving us a couple of hundred in tax and delivery. Yeah FIL!
My sweet hubby spent a couple of days applying deck seal (suggested by other owners of the set who wrote reviews) and then two full days putting the thing together. In a grand finale, my dad and brother came to help on the last day for six hours.
The set was officially completed on Saturday evening. Sunday we had a day off. Literally. The kids were out there playing at 6:40 in the morning, so excited they were willing to get up, dressed and outside while I was making Father's Day breakfast. I think they came in a total of 2 hours when you count potty breaks, meals and naps (which despite all the outdoor exertion, they were too excited to take).
I know the novelty will wear off, but with a rock wall, twisty slide, two swings, a trapeze bar, fort and ladder, it's kept them so entertained I actually have time to write this post, work on my knitting, and even read. Read. While they're awake!!
Now I know why parents buy swing sets. This is going to be the best summer ev-er.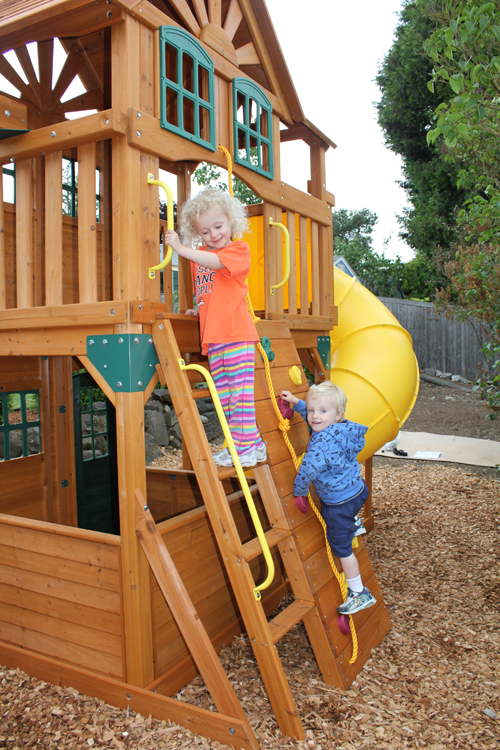 The other side, with the wall and ladder.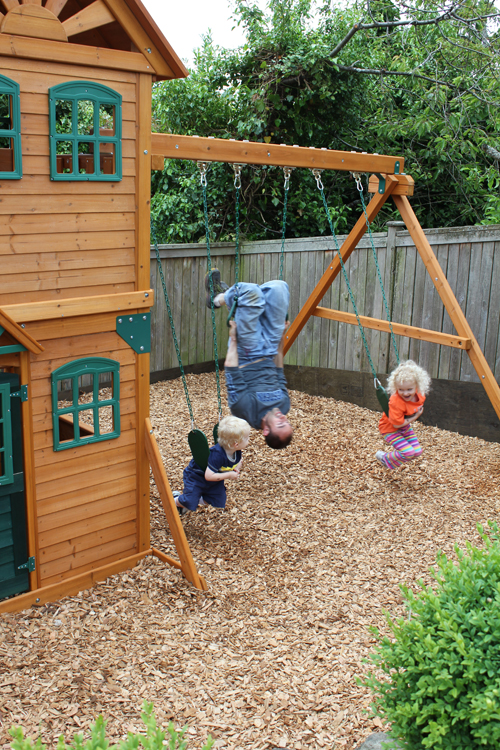 Playing with their uncle. Never did get a shot of me with my brother on it. But it was sure cool to come full circle.