I've been sharing the adventure of our trip to Hawaii with our kids in October. To catch up, please check out the stories of the flight, the arrival and the volcanic eruption.
When we last left our heroes, they were recovering from their first full day on the island.
The morning of the third day I needed to be down in the ballroom by 8 am to prepare for the meeting I would help the chair run. My job was to assure the food arrived, everything was set up right, the A/V equipment was working and everyone had an agenda.
The kids let us sleep in to 6 a.m. In the end, this worked because it gave us time to shower then take them down for a full breakfast before I had to break away for the meeting. We had a tasty breakfast (great to get the kids off on the right foot) then I was off to the meeting.
Throughout the morning I checked in on Hubby. He'd originally thought he might use our upholstery cleaner on the car and car seat, but he ended up hitting the pool and hanging close to the hotel room. However, he made a critical mistake. He lost track of time.
Poor Hubby learned the hard way that if you give kids pancakes at 7 am, you'll need to feed them again before noon. By the time he decided to drive out to a taco place where he could get the tried and true beans and rice, the kids had both gone hurricane 5. They were both screaming and pitching fits he had to wrangle them and all the food back to the car and bring it home to eat.
Which is where I came in. Our meeting ended by about 1:30 p.m. and I returned to the room to a completely stressed out Hubby and two crabby kids who were sort of eating lunch.
Once we got them both fed, we put Mr. Man down and I took Sweetness to the ocean. We walked down and just stood in the water. She was a bit tentative at first, but then, as long as I was holding her hand, she was thrilled to stand there and let the ocean wash in and out over her feet. She got brave and stepped closer.
Nothing washes away your cares like standing in the ocean, holding your sweet little daughter's hand, and letting the waves wash around us. Perfect.
We took the kids back to the kiddy pool then to Denny's (hey, when you find something they'll eat, you don't screw with it) for dinner. Sweetness was asleep before I could change into my jammies to join her that night.
The fourth day started with me heading out to yet another meeting. Hubby came by with the kids to visit while I was helping check in attendees, then they were off to breakfast (which I later heard was quite the adventure itself because the kids couldn't be pleased throughout the meal).
The meeting was about half over when I heard from Hubby. The kids were out of control. Neither had woken on the right side of the bed and nothing he was trying to do was pleasing them. He sounded like he needed to be relieved so I ducked out.
We decided to head out as a family to the north side of the island. After lots of driving and attempts to scope out a beach, we came across a little state park in a residential area north of Kaanapali. It had everything we needed, picnic table, swings, playground, bathrooms and a beach. As it turns out, this was a favorite beach of several local moms with babes. There was a bit of a rock reef just offshore. Waves would come in over it, then slow and create this perfect sandy tide pool for the kids.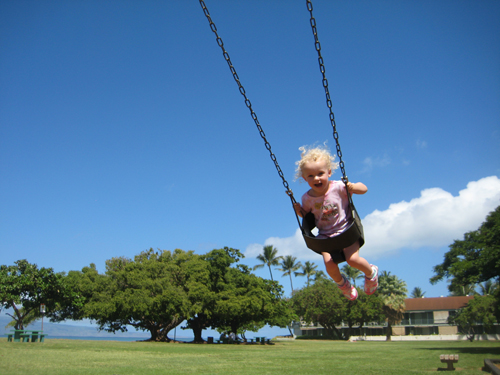 First the kids had to swing on the swings, then we staked out a piece of beach under a banyan tree. Sweetness was thrilled to stand in the pool (holding one of our hands) and Mr. Man enjoyed crawling around the sand, digging with the bucket and shovel we brought, and taste testing the sand (sigh).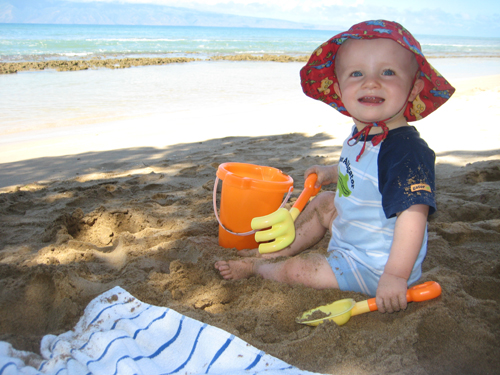 After about an hour of beach time we started packing up and Sweetness asked to go in the ocean one last time. As she started to walk toward Daddy, who was standing at the waterline, she let out a bloodcurdling scream. Everyone turned to look. At first I thought jellyfish. As she picked up her right foot I saw something black and my mind ran from bug, to spider to what it ended up being – bee. A black bee, and it was hanging from the sole of her foot from it's stinger.
Hubby scooped her up and dipped her feet in the ocean to wash off the sand. I flicked the bee off and checked her foot. The stinger had come out and was just sitting on her foot, I scraped it off.
Another mom came running with a penny. She swore it worked to take out the sting and to try. I pressed it to Sweetness's foot. Then the mom returned with a metal water bottle full of ice water. I pressed the cold container to her foot and her screaming started to subside. What a blessing to have such wonderful, helpful folks around. We were so grateful.
After about 10 minutes the tears stopped and there was no sign of an allergic reaction. It was Sweetness's first bee sting and I was standing ready to call 911 if she showed a reaction. Luckily, she was fine.
As Hubby carried her to the car, she noticed the playground and told him she wanted to play. Yup, she was fine. I got Mr. Sandman cleaned up and changed then loaded up the car while Sweetness and Daddy played on the swings.
In the end, my little trooper walked on the ball of her foot for a couple of hours, but was back to herself by the time we got back to the hotel and hit the kiddy pool.
After a little late afternoon play in the kiddy pool, we sat with our feet in the hot tub as we listened to the music of the hotel's luau, which was taking place nearby, and watching the sunset. All in all, it was a good day.
We all passed out pretty hard that night. And it was the first night they both slept through the night in Hawaii.